2017/2018 Term dates
Term 4, 2017 - Monday 9 October – Friday 15 December (10 week term)
Term 1, 2018 - Friday 2 February – Friday 13 April (10 week term, but only 9 Mondays)
Term 2, 2018 - Monday 30 April – Friday 6 July (10 week term)
Term 3, 2018 - Monday 23 July – Friday 28 September (10 week term)
Term 4, 2018 - Monday 15 October – Friday 21 December (10 week term)
Term Fees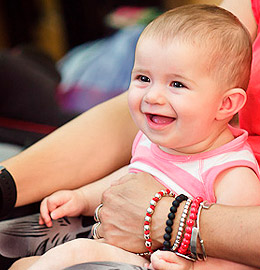 A 10 week term costs $220 for the first child and carer ($22.00 a class) and $110.00 for an accompanying sibling over the age of 1 ($11.00 a class). This is a 50% discount for siblings. The same sibling discount applies to twins attending a Babes on Laps class.
Accompanying siblings under the age of 1 attend for free until they turn 1. All accompanying siblings must be enrolled, even if no fee applies.
Fees are adjusted pro rata ($22.00 for the first child and $11.00 for the second), if the term is less than 10 weeks (when there are public holidays) or if the child enrols after the term has started.
Trial classes
You are welcome to trial a class first, for the same $22 fee as our usual classes,  if there are places available. A child with a "trial" status is not guaranteed an ongoing spot in the class.
Casual classes
Casual attendance is possible ($25 a class), in classes that have a few vacancies. Pre-booking and pre-payment is required. Please call 0431 338 143 to register for casual classes.
Enrolments and enquiries
Please call 0431 338 143.