Einsteinz Music classes are taught by professional musicians who teach music classes to toddlers, babies and preschoolers. They have great rapport with children (opposed to being taught by Early Childhood teachers who have some music education). This makes the classes far more informal (which is age-appropriate), more "organic", dynamic and very hands-on. Parents, carers, nannies and grandparents have commented on this point of difference very favourably over the years! Instead of concentrating on the "teaching", our teachers teach through "doing" and sharing music with the children – so that each participant is getting a very solid musical foundation whilst having loads of fun!
This amazing team of experienced teacher musicians comprises of:
cash brown
Teacher
Having written poetry from the age of 7 and later getting into song writing, music programming/mixing and production, Cash is an extremely creative person.
Cash is a very experienced teacher, having nearly 2 decades of experience working in leadership positions, with young people in multiple areas and has been teaching with Einsteinz Music since Term 2 in 2016. Cash's teaching style is very intuitive and based in a foundation of psychology, (allowing children to show the way they need to be taught) and flexibility in being able to taper lesson plans to suit the energy of the room.
As a soul singer and rapper hop/hop artist, when choosing content for classes, Cash draws on well-known hits, songs parents can groove along to and also writes original songs for kids. Cash builds trust with all participating children, often learning songs in other languages for children with multi-cultural backgrounds and using music in the class setting to help socialise children who experience shyness or learning and behavioural issues.
Cash is a human rights advocate, who works alongside First Nations Australians, the POC/Black community, as well as being a member of the LGBTQIA+ community and a gender diverse man, Cash has a very large capacity for tolerance, compassion and acceptance and this experience is brought into the classroom where Cash inspires all who enter to be respectful, loving, patient and tolerant of one another.
Cash has done work with Australia National Association of Teachers of Singing, has ongoing involvement with Redfern Community Centre and is a member of the Barayagal Choir, (Gamilaraay language) directed by Yuwaalaraay songwriter – Nadi Simpson hosted by The Conservatorium of Music.
"I care about all people and strive to nurture any who enter an Einsteinz Music space, celebrating their similarities and their differences through music."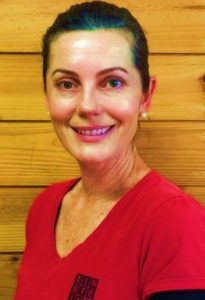 claire steele
Teacher
Claire grew up on the mid-north coast of NSW and was exposed to music from an early age. Her father, an accomplished guitarist played frequently around the home, and Claire remembers attending numerous gigs growing up, watching him play bass guitar in local jazz bands.
From the age of 8, Claire began piano lessons in classical repertoire and continued these throughout her schooling life. She was a member of the high school band for many years, playing trumpet, clarinet and saxophone, but piano remained her primary focus.
After school she attended the Newcastle Conservatorium of Music, obtaining a Bachelor of Music in Performance. Whilst at the Con, she performed in numerous chamber and vocal ensembles, including performances for Opera Hunter, and was the accompanist for the Conservatorium's Early Childhood Music Choir.
Claire went on to further study, receiving a Diploma of Education in Primary Teaching.
After time spent teaching in Sydney, both private piano tuition and primary teaching in schools, Claire moved to the USA where she lived for almost 9 years. During this time, she taught piano privately, and worked as Music Director for a local theatre group that specialised in musical theatre for primary aged school children.
After returning to Australia with a young family, Claire realised how much she enjoyed playing and singing to her children, and decided to pursue opportunities in early childhood music. Starting teaching with Einsteinz Music in March 2015,  was a perfect fit.
"Seeing children engage with music in such a hands-on way is extremely rewarding".
dee pask
Teacher
Dee has always found ways to put music at the forefront of her life. She began learning piano at age eight, picked up a guitar at 13 for the obligatory teenage angst years, and eventually went on to complete a Bachelor of Arts in Music & Media. She has since worked in music management, music merchandising, and travelled on the road with touring bands, with her main musical interests being indie, rock, and folk.
Dee has herself played in multiple bands over the last 20 years, most notably as a solo artist, or as singer/songwriter and guitarist with Dusker. Most recently she has been playing with the bands Briscoe and gf elbows, on keys/synth and vocal duties (plus some mean tambourine). She has also dabbled in gospel choirs and musical theatre.
 "There is so much evidence that exposure to music at an early age is hugely beneficial, so I am thrilled to be able to work with Einsteinz Music. The best part is making music fun and being silly with the kids, so that they are encouraged to learn without even realising it".
Dee is now busy raising her own two 'little monkeys', who often 'jump on the bed', and has fortunately not had to 'call a doctor for any bumped heads' (yet). They love to dance and make joyful, noisy music together. Dee has been teaching energetic Einsteinz Music classes since Term 2 in 2019. 
lewis nisbet
Teacher
Lewis grew up on the NSW South Coast in Huskisson and started learning the guitar and piano at age 9. He loved the guitar and continued with lessons adding in violin lessons too when he was 15. At 17 he began tutoring the guitar to students in the local area and really enjoyed it.
He moved to Sydney after finishing high school and undertook a degree in Music and Sound Design at UTS. After a short stint working in hospitality, he returned to tutoring students, primarily in piano. He loves to teach with enthusiasm and energy whilst always being mindful of how effective his teaching methods are.
In 2020 he started singing lessons too, which he finds extremely helpful in his current gig with Einsteinz Music. He loves working with children and has been teaching with Einsteinz Music since Term 2 in 2021. Parents and children alike love his fun style and are drawn to his warmth.
"What I love most about Einsteinz Music classes is the sharing of music, showing how movement connects to the music and how social and fun the classes are."
ashleigh campbell
Teacher
Ashleigh grew up in country NSW in Inverell. From a very young age she adored music and performance, first picking up dance at the age of 3, and then singing and acting from around 10 years old. She began playing guitar in high school and continued her passion for performance which led her down the path of musical theatre.
After graduating with a Bachelor of Music (Music Theatre) at the Australian Institute of Music in Sydney, she toured with educational theatre companies, as well as writing her own work. She has also worked as a children's entertainer for a Sydney-based party company.
In addition to currently studying her Masters in Music Therapy, Ashleigh works as a fitness instructor.  The combination of her educational background, passion for performance, teaching skills and experience working with children makes her a perfect fit as an Einsteinz Music teacher.
"Music really is a universal language. And what a special way to communicate and play with one another."
diego paez
Teacher
Diego is a music teacher, singer, pianist, composer, song writer and producer with experience in a variety of musical genres.
Born in Cali, Colombia, Diego grew up loving Salsa dancing, (which is hometown is famous for) and that is where his passion with music began. He started singing first as a boy, then started learning piano and guitar and gained experience singing and dancing salsa. After school he obtained his Bachelor's in music and then a Masters in Music Theory and Composition.
Attracted to the beach lifestyle and multicultural environment, Diego came to Sydney 3 years ago. Music helped him learn English so he understands first-hand how it can help developing children with their literacy. In Sydney he works as a private music tutor, teaching piano, guitar, singing and music theory to children from 3 years old to adults.
After seeing Einsteinz Music teacher Cash run a class, he was inspired to join the team. He thought the class was a master class in how to teach early childhood music because of the way fundamental music concepts were communicated through fun content and structure.
Diego's goal is to share music in all forms, by teaching, performing and creating:
"Music is a very successful teaching tool for young children because they can learn everything through it – like vocabulary, social skills, self-awareness and creative skills."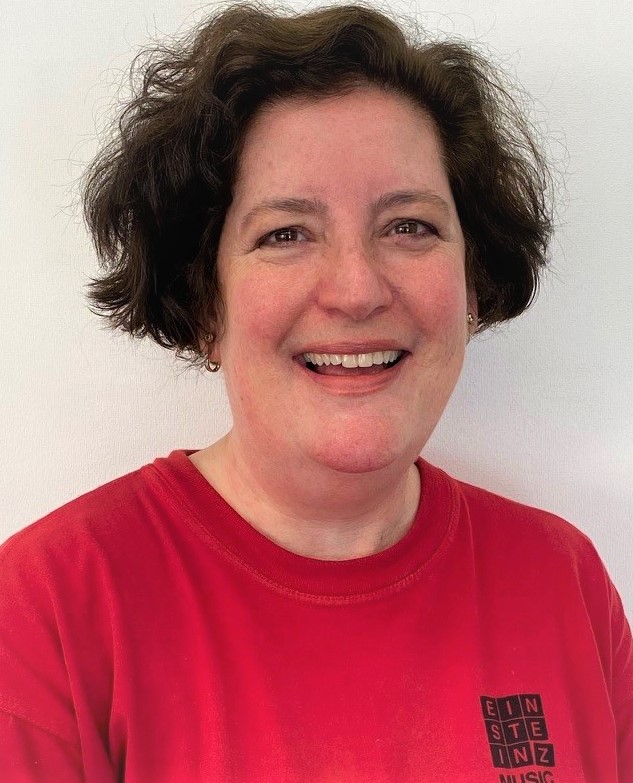 robyn rostovsky
Owner of Einsteinz Music
Robyn attended her first Einsteinz Music class with her 7 month old daughter whilst on maternity leave.
"I fell in love with the concept and had to be involved with the classes  – what could be better than making music with children? What a joyful way to spend the day!"
After training to be a teacher for a few terms, Robyn was then offered the opportunity to open new classes, but at the time was pregnant with her second child. Instead, she bought the business in 2004 – a perfect combination of her past education (an Honours Degree in Dramatic Arts, with a penchant for musical theatre) and her many years of work experience in marketing and sales management in the field of luxury education.
Robyn is passionate about Einsteinz Music and all the benefits it brings to children and carers alike. Occasionally she ventures out from behind her desk to teach substitute classes or co-teach larger groups for promotions or demonstrations.