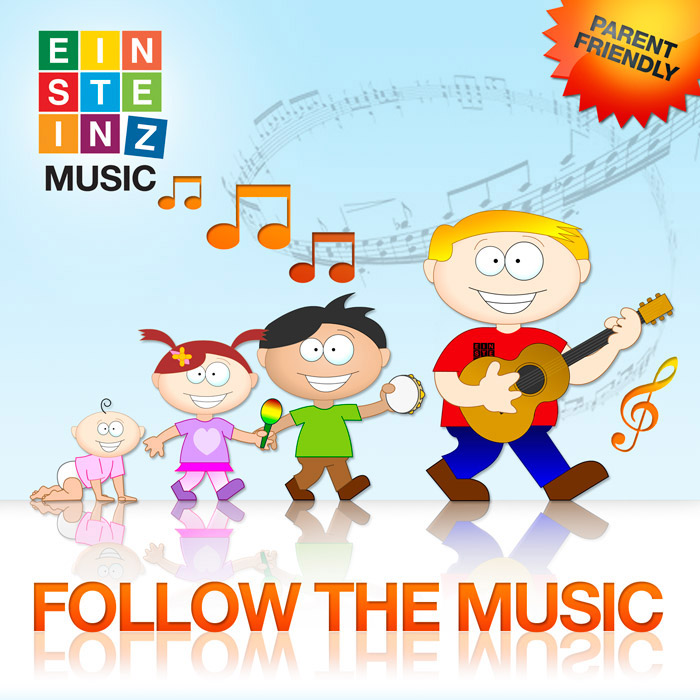 The Einsteinz Music CD, entitled Follow The Music, is a collaboration between the Einsteinz Music teachers and showcases their amazing musical talents. It is a rockin' children's CD of songs from our weekly music classes, professionally arranged and recorded (in the Bondi Studios), by our own team of teachers.
The regular favourite 'core' songs are featured, including: A Ram Sam Sam, Inanay, The Peanut Song (also known as The Train Song), Jig Jog, The Banana Boat Song and Bam Chi Chi Bam. These songs have been given a new interpretation through unique arrangements. We've also included some of our teachers' personal favourites, like Down Where the Watermelon Grow, Bling Blang, Down in The Jungle and Mr Clicketty Cane. Melanie Horsnell (a past Einsteinz Music teacher), even wrote a wonderful original song I can Sing really High especially for the CD.
There are 17 high quality, fantastic tracks in all, exhibiting styles ranging from Rock & Roll, Country, Bluegrass and Choral – with a few silly songs thrown into the mix. This CD has it all! The CD will be a perfect gift for your children (and other children, even if they have never attended our classes). It is an ideal present.
The CD costs $15 (+$4.50 postage and handling) and you can buy it:
At classes in the last few weeks of term, or
By calling the Einsteinz Music office on 0431 338 143. A copy will be mailed to you.
Purchasing it on iTunes (cheaper for digital copy)
Follow the Music

Einsteinz Music

0:44

Down Where the Watermelon Grow

Einsteinz Music

0:44

The Peanut Song

Einsteinz Music

0:51

Inanay

Einsteinz Music

0:54

Mr Clicketty Cane

Einsteinz Music

0:39

The Banana Boat Song

Einsteinz Music

0:50

Jig Jog

Einsteinz Music

0:44
"Bassez Down" from Einsteinz Music CD – free download.
Instrumentals and lead vocal by Rob Shannon, electric bass Matt Steffen and additional vocals by Wayne Tritton, Tim Kevin and Julie-Ann Glur. 
Download this song to enjoy! Click on the image on the left and select "Save link as.." then choose a location on your computer to download the song for free!