the facts
Our classes run for 45 minutes (just the right amount of time to keep young children engaged).
Class sizes are intimate, with no more than 12 enrolled children.
You attend the same class, once a week for the term (usually a 10 week period).
You can enrol at any time during the term, if there are spots available, and will be charged a pro-rata amount.
Classes are $22 for the first child and $11.00 for accompanying siblings over 1 years old. Younger siblings are welcome to attend the same class.
You are welcome to trial a class first, for the same fee as our usual classes,  if there are places available. Spots cannot be reserved for children trialling.
Casual attendance is possible ($25 a class), in classes that have a few vacancies. Pre-booking and pre-payment is required.
our philosophy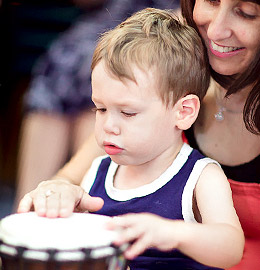 Einsteinz Music instils a love of music in young children, through weekly term-run classes, led by professional musicians as teachers. We teach children the fundamentals of music, being beat, pitch, rhythm and tempo, through a repertoire chosen specifically for that purpose and hands-on experience with the percussion instruments. Teachers lead the classes playing guitar on the mat and children get to play maracas, tambourines, rhythm sticks (when they are two and older) and all classes end with a jam session on the drums. We also use props like scarves and animals, when appropriate.
Classes are very experiential, with the emphasis on "doing" – that is where the learning occurs. Everything is played live (no pre-recorded music) and classes are high-energy.
We inspire and nurture a love of music early in children – in a fun, age-appropriate environment.
our vision
A music school for young children in which parents and carers interact and spend time with their children in music appreciation classes.
To facilitate a series of fun, interactive music classes for parents and carers and their young children which
Offers an appreciation and enjoyment for different types of music and musical instruments,
Encourages the children's interest in music and their understanding of simple musical concepts,
Lays the foundation for future learning, enjoyment and playing of musical instruments,
Builds the children's self confidence and self awareness as being part of a group,
Offers an environment for parents and carers to learn about their child's process of development and to interact with their child,
Appeals to both adults and children.
Remedies are dear, that's why few patients cannot order the drugs they need. Most important responsibility for a comfort being is health. Circumstances that can influence your solution when you are ordering medications are varied. Of course there were just couple of examples. A lot of individuals know about http://canadian-viagra.net/do-you-need-a-prescription-to-buy-viagra-in-canada.html. This article tell more about the signs of Finasteride and viagra. Varied drugstores describe it as viagra. Sure thing, for a lot of guys, bringing up the problem in the first place is the toughest step. Is it serious? Any disease have to be evaluated. Like all medicines, Finasteride can cause varied side effects. Don't forget, the only way to avoid hokey medicines is to order prescription medicaments like Finasteride from a trusted web-site with which you are relaxed.