the magnificent mango tree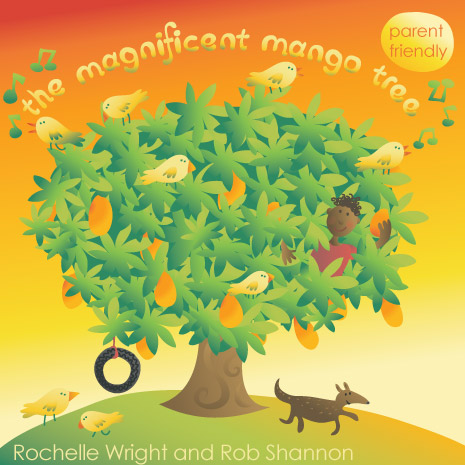 If you love singing and swinging and tapping your toes, backyard parties and yummy mangoes, dancing in the sand,  and little geckos – then come join the fun of 'The Magnificent Mango Tree'.
'The Magnificent Mango Tree' is a parent friendly children's album by musicians Rochelle Wright and Rob Shannon. Both are performers, teachers and parents of young children, and their passion for inspiring music for children (and their parents) shows through in every song on this 13 track CD. Rob Shannon was Einsteinz Music's head teacher for many years, until he relocated to Bathurst with his family.
These vibrant original songs are dedicated to children of the present, past and future who love to sing, dance and jam along!
As the follow up to 'The Jambu Tree', this 13 track album is diverse in styles, rich in acoustic instrumentation and is a fun and uplifting collection of songs, capturing the essence of our outdoor Australian lifestyle, as well as introducing children to some enriching melodies and rhythms of world music traditions.
The CD costs $25 (+$3 if mailed) and you can buy it at:
Classes in the last few weeks of term, or
By calling the Einsteinz Music office on 0431 338 143. A copy will be mailed to you.
Ciranda Cirandinha

Einsteinz Music

0:34

Life on our Farm

Einsteinz Music

0:37

The Magnificent Mango Tree

Einsteinz Music

0:39

Birthday Song

Einsteinz Music

0:42

Lonely Dancer

Einsteinz Music

0:49

Party in my Backyard

Einsteinz Music

0:38

Love Birds

Einsteinz Music

0:37