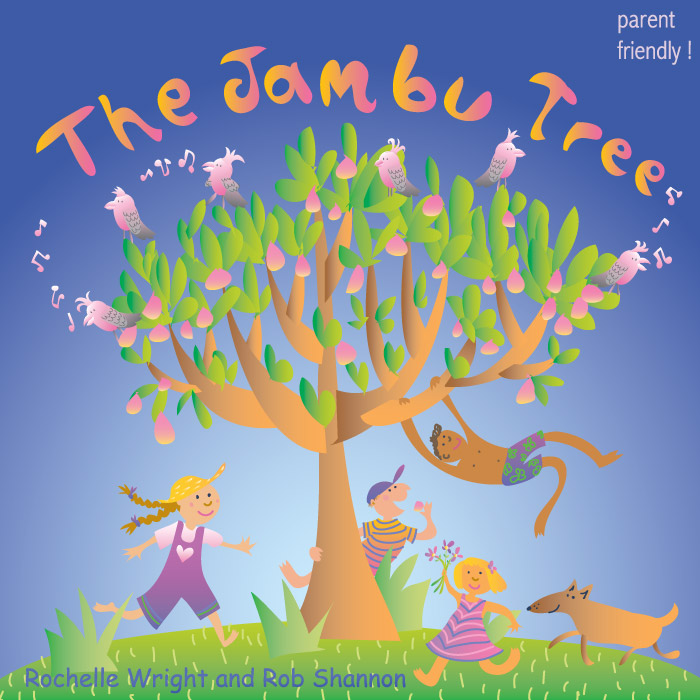 This vibrant acoustic children's album is produced by musicians Rob Shannon and Rochelle Wright. Both are performers, teachers and parents of young children, and their passion for inspiring music for children (and their parents) shows through in every song on this 13 track CD.Rob Shannon was Einsteinz Music's head teacher for many years, until he relocated to Bathurst with his family.
Children and parents who have attended Einsteinz Music classes will be familiar with songs on the CD like The Peanut Song, Bam Chi Chi Bam, I love the Music and Sambalele, which are sung in our classes.
If you like bats, bees, birds and bikes, big animals, blueberry muffins and babycino's then you'll love the Jambu Tree! The CD is diverse in styles, rich with instrumentation, yet flows seamlessly from beginning to end. It is fun, uplifting and captures the essence of our outdoor Australian lifestyle. A collection of original and unforgettable songs, the Jambu Tree will have everyone laughing, singing, dancing and jammin' along! The Jambu Tree comes with a beautifully illustrated lyrics booklet by Melbourne artist Trace Balla.
The CD costs $25 (+$3 if mailed) and you can buy it at:
Classes in the last few weeks of term, or
By calling the Einsteinz Music office on 0431 338 143. A copy will be mailed to you.
I Love The Music

0:43

Jambu Tree

0:40

The Trusty Rusty Bike

0:41

Outside

0:35

Peanut Butter

0:41

Samba Ole

0:38

Shake 'em Up High

0:34