Einsteinz Music classes are taught by professional musicians who have great rapport with children (opposed to being taught by Early Childhood teachers who have some music education). This makes the classes far more informal (which is age-appropriate), more "organic", dynamic and very hands-on. Parents, carers, nannies and grandparents have commented on this point of difference very favourably over the years! Instead of concentrating on the "teaching", our teachers teach through "doing" and sharing music with the children – so that each participant is getting a very solid musical foundation whilst having loads of fun!
This amazing team of experienced teacher musicians comprises of:
cash brown
Teacher
Cash was immediately interested in becoming involved when she heard from Einsteinz Music teacher Karen, what it was all about. It seemed to her to be the perfect fit – combining her strong love of working with young people and her passion for music!
"I love seeing kids' faces light up when they hear a song that resonates with them. Music is such an important foundation in the early years and I'm grateful to be involved with the development of our future generations!"
Cash has been involved in music and performance from a very young age. She started writing poetry at 7 years old and then taught herself guitar when she was 10. She continued writing poetry and performing through school.
She had always had an interest in working with youth, particularly youth off the streets. As a teenager, she was involved with ACON (Aids Council of NSW), running youth groups and motivational workshops.
In her late teens, she started dabbling in music production and programming, converting her poetic writing into lyrics for the backing tracks she the produced. She taught herself to record and produce the songs she wrote and performed. In her early 20's she spent 2 years in London, exploring the music scene and performing, mostly for "The Nursery Theatre", singing covers, (of TLC, Mary J Blige and Lauren Hill), and her own original work.
Cash currently performs as a poet and singer around Sydney and is working on releasing an album of reggae covers with her sister and her own personal works.
claire steele
Teacher
Claire grew up on the mid-north coast of NSW and was exposed to music from an early age. Her father, an accomplished guitarist played frequently around the home, and Claire remembers attending numerous gigs growing up, watching him play bass guitar in local jazz bands.
From the age of 8, Claire began piano lessons in classical repertoire and continued these throughout her schooling life. She was a member of the high school band for many years, playing trumpet, clarinet and saxophone, but piano remained her primary focus.
After school she attended the Newcastle Conservatorium of Music, obtaining a Bachelor of Music in Performance. Whilst at the Con, she performed in numerous chamber and vocal ensembles, including performances for Opera Hunter, and was the accompanist for the Conservatorium's Early Childhood Music Choir.
Claire went on to further study, receiving a Diploma of Education in Primary Teaching.
After time spent teaching in Sydney, both private piano tuition and primary teaching in schools, Claire moved to the USA where she lived for almost 9 years. During this time, she taught piano privately, and worked as Music Director for a local theatre group that specialised in musical theatre for primary aged school children.
After returning to Australia with a young family, Claire realised how much she enjoyed playing and singing to her children, and decided to pursue opportunities in early childhood music. Starting teaching with Einsteinz Music seemed a perfect fit.
"Seeing children engage with music in such a hands-on way is extremely rewarding".
dee pask
Teacher
Dee has always found ways to put music at the forefront of her life. She began learning piano at age eight, picked up a guitar at 13 for the obligatory teenage angst years, and eventually went on to complete a Bachelor of Arts in Music & Media. She has since worked in music management, music merchandising, and travelled on the road with touring bands, with her main musical interests being indie, rock, and folk.
Dee has herself played in multiple bands over the last 20 years, most notably as a solo artist, or as singer/songwriter and guitarist with Dusker. Most recently she has been playing with the bands Briscoe and gf elbows, on keys/synth and vocal duties (plus some mean tambourine). She has also dabbled in gospel choirs and musical theatre.
 "There is so much evidence that exposure to music at an early age is hugely beneficial, so I am thrilled to be able to work with Einsteinz Music. The best part is making music fun and being silly with the kids, so that they are encouraged to learn without even realising it".
Dee is now busy raising her own two 'little monkeys', who often 'jump on the bed', and has fortunately not had to 'call a doctor for any bumped heads' (yet). They love to dance and make joyful, noisy music together.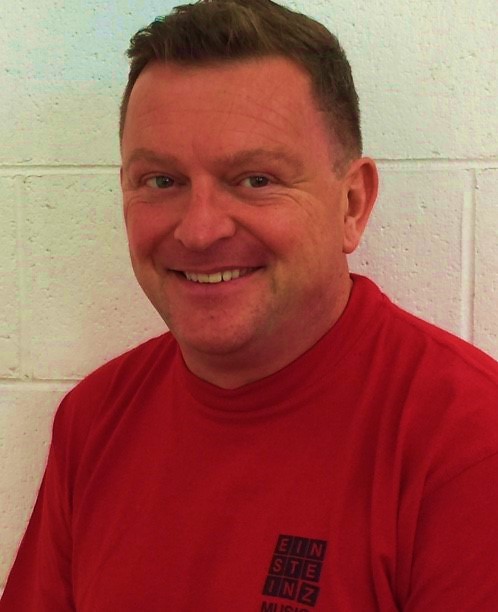 mark sherwin
Teacher
Mark started his musical education at the age of seven when he stole his big sister's guitar and refused to give it back.
After attempting to be a rock star in London Mark decided that working in the IT industry was a more reliable way of paying the rent and continued doing this until 2009 when his daughter was born. As a stay-at-home primary carer Mark spent many hours at various children's musical events and singing and playing to his daughter and her friends.
He is currently studying for a post-graduate qualification in counselling with a specific interest in early childhood and music therapy.
"I love the Einsteinz Music ethos of instilling a love of music in children from an early age. It is a great way for carers and their children to enhance their relationship".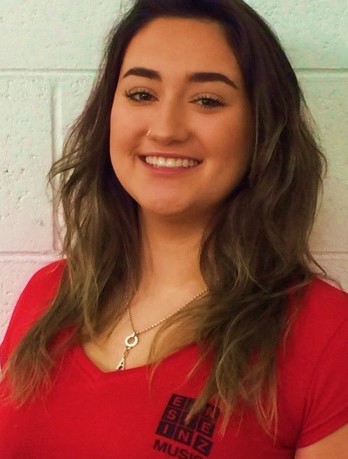 amy solomon
Teacher
From a young age, music has always been an important part of Amy's life. Performing since the age of 5, her extensive list of instruments now includes Vocals, Saxophone, Guitar, Keyboard, Ukulele, Percussion and more. For the last few years she has been performing around Sydney as both a solo act and in a numerous bands.
With many years of experience in childcare, Amy quickly fell in love with the way young children interact with music and decided to pursue a career in education.
Following high school, Amy went on to study a Bachelor of Music Performance and has recently completed a Postgraduate short course in Psychology. She aims to one day become qualified as a Music Therapist.
"Watching the different ways children interact with music is one of the most rewarding experiences and that makes working with children and music the most rewarding job in the world".
serge stanley
Teacher
Serge comes from a family of musicians and has been playing music all his life. Serge is a multi-instrumentalist and currently plays saxophone, piano, guitar, ukulele and accordion.
Since he was out of high school Serge has played in many musical arenas including touring nationally and internationally with various groups, playing most Sydney venues at some stage, writing and recording original music, receiving airplay on many national radio stations and generally being active in the local music scene.
Serge finds it inspiring to his own practice to see a child be able to learn something after being shown only once or twice, and the patience children bring to their own learning process. Serge first became interested in Einsteinz Music when his partner was looking for a "cool class to take their two year old son as a place to engage with other kids.
"I enjoy seeing the ability of children to learn as quickly as they do, and to constantly surprise us. I find it fascinating how young children become interested in things around them and the methods we can use to engage them and also give them the opportunity to experiment themselves"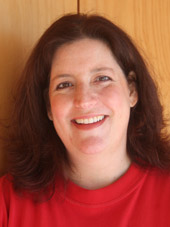 robyn rostovsky
Owner of Einsteinz Music
Owner of Einsteinz Music, Robyn attended her first Einsteinz Music class with her 7 month old daughter whilst on maternity leave. She fell in love with the concept and decided she had to become involved with the classes – what could be better than making music with children? What a joyful way to spend the day!
After training to be a teacher for a few terms, Robyn was then offered the opportunity to open new classes, but at the time was pregnant with her second child. Instead, she bought the business in 2004 – a perfect combination of her past education (an Honours Degree in Dramatic Arts, with a penchant for musical theatre) and her many years of work experience in marketing and sales management in the field of luxury education.
Robyn is passionate about Einsteinz Music and all the benefits it brings to children and carers alike. Occasionally she ventures out from behind her desk to teach substitute classes or co-teach larger groups for promotions or demonstrations.